Picanoc Internet Network

Picanoc is a public-private company that was founded in the spring of 2008. Its objective is to offer access to high speed wireless service to all of our communities along with excellent service while striving to maintain high quality customer service and a network that meets your expectations.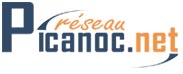 Phone : 1-877-770-0040
Website www.picanoc.net
La MRC de-la-Vallée-de-la-Gatineau in partnership with the MRC de Pontiac, the Commission scolaire des Hauts-Bois-de-l'Outaouais and the Commission Scolaire Western Quebec are incorporated as Fibre Connection Picanoc inc. and registered with the CRTC as a non-dominant supplier.
A private partnership with Xittel Telecommunications, a leader in the optical fiber technology sector and, specializing in the implementation and management of private networks, was established.
The primary concern of the network fiber is unquestionably Picanoc customers. It is important to provide a safe and reliable network. That is why the main network operates on multiple fibers in the PSC cable and other infrastructures.
The Picanoc network saw the light of day under the Quebec government's program, Villages branchés that offered high-speed access to communities, municipal buildings, schools and public libraries.