Plan Nord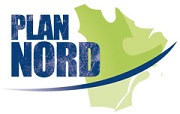 Major national projects benefit the Gatineau Valley area.
In regards to the development of Plan Nord, La Vallée-de-la-Gatineau has many advantages. The Plan Nord is an economic development program (north of the 49th parallel) for the Nordic Quebec regions proposed by the Quebec government in May 2011. It is based on public and private investments of around $ 80 billion in the next 25-years.
The Plan Nord is a major national project that is beneficial for the Gatineau Valley area. First, its geographical location has a significant advantage as regards to the possibilities of business arising from the Plan Nord. Being located close to the Ottawa-Gatineau region and the southern border of the 49th parallel, the region has two main axes, Highway 105 and Highway 117 leading directly to the territory exploited for the implementation of this major project.
Moreover, the region has the infrastructure already in place to help in the development and implementation of Plan Nord. In particular, the presence of the Maniwaki airport transforms the MRC de La Vallée-de-la-Gatineau into a potential turntable which can meet all the requirements relating to Plan Nord.