Less Waste, Compost Pays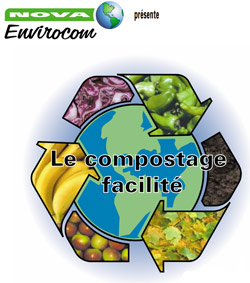 About 40% of all household waste is organic waste. "Organic" means anything of a plant-animal origin, such as table scraps and green waste (leaves and grass). A significant quantity of residues could consequently result in environmental problems at the landfill facility by producing foul odors, leachate and biogas.
The Quebec policy on waste management established a target of 60% for organic materials. Several methods may be employed to achieve this objective ranging from backyard composting to an industrial composter or biomethanization.
The MRCVG is predominantly rural. Home composting is a simple method well adapted to our reality since it allows the recovery of organic plant materials of vegetable sources, at a very low cost. The majority of the MRC households have adequate space for composting. Nevertheless, the MRC's Waste Management Plan, for 2016-2020, stipules a 3rd collection bin is expected by 2020, the 'brown bin'. This does not prevent the home composting collection, since this method allows each household to have its individual compost and does not generate additional transportation costs.
Transform, Not Waste Resources!
Composting is a decomposition process that occurs when oxygen transforms the organic materials into compost which improves soil structure, adds nutrients to the soil and stimulates plant root development.
How do you do it?
Home composting is not complicated. You can do it yourself. The guide, Le compostage facilité by Nova Envirocom, is available on the Recyc-Québec website. It answers all your questions starting with the treatment of organic matter to the collection of compost.
• The brochure on home composting resumes the material outlined in the NovaEnvirocom. See the brochure >>.
If small glitches occur, it is easy to fix. The troubleshooting chart will help you. See the chart >>
Vermicomposting
Composting may also consist of using various worms. Red worms, cousins ​​of the common earth worm, easily adapt to life inside the small bin kept in the house where they devour all table residue placed at their disposition. Vermicomposting is a great option for people who reside in small apartments, for the disabled, the curious and, primary and secondary students.
For additional information regarding composting or to attend a free course on the subject contact us at : This email address is being protected from spambots. You need JavaScript enabled to view it.